A little while ago I met a very talented photographer (Vije the founder of TapSnap) completely by chance or maybe fate. I was doing a video shoot with his wife – Shan – and he had come with her to help with the setup and of course to take a few snaps of us (myself and his wife) to use as part of the video promo on social media. I was heavily pregnant at the time and had been searching for a simple laid back lifestyle photographer to take pictures of myself and my kids once my Son was born. Anyone who knows me will tell you that I am big on pictures and so I was not going to let any opportunity to take pictures with my 2 kiddos pass me by.
By pure luck, after shooting the video, we ended up talking about taking pictures and in that moment we agreed that once my Son was born and I was comfortable taking pictures we'd do a little lifestyle photoshoot.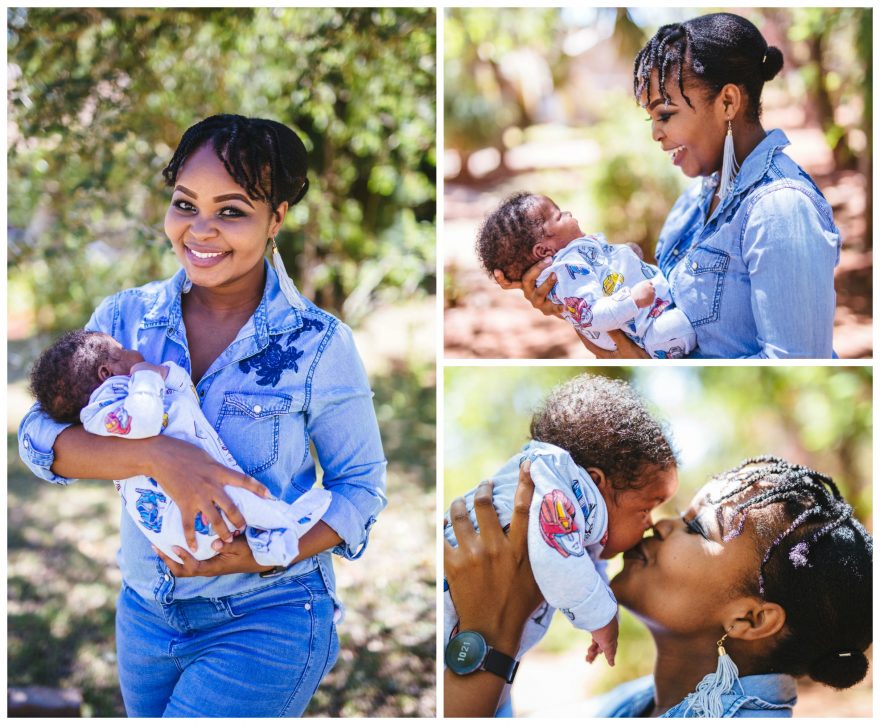 The original plan was to take pictures of myself and my 2 kids together but once my son was born and the reality of being Mom of 2 kicked in, I had to quickly alter that plan. I must say though that I am very glad I did. On the day of the photoshoot, it was so chaotic with just me and the little guy that the thought of having my 5 year old there straight up gave me hot flashes.
Vije was so patient – considering I was running a few minutes late – and so understanding. We drove and walked around our complex to find good spots to take pictures and even though deep down I was convinced – read worried – that we probably will never find any, he spotted a few good ones that we used. He guided me on how to pose because Lord knows I only know 1 pose when it comes to taking pictures, and he made me feel very comfortable especially with those new mom nerves hitting sky high limits.
In the midst of all the madness of trying to get through a photoshoot with a 3 weeks old baby who was constantly in and out of naps all the time, He managed to squeeze in a few snaps of just me by myself. I don't know about you but I'm pretty convinced that he has some sort of unicorn magic.
Every single time I look at these pictures, it brings back such good and happy memories. Newly Mom of 2, only 3 weeks postpartum, trying to figure life out and adjust to this big change, and mostly importantly trying to understand how to take care of a baby boy. Oh how I have come a long from then. Looking back I am glad I did this shoot. I am even more glad that I met Vije when I did. His style of photography is incredible. The picture quality is amazing, he's professional but still very friendly, and yep, his unicorn magic sure adds a little sparkle to all the pictures. I was a hot sweaty mess (literally, my post pregnancy hormones were insane) at 3 weeks postpartum but look at those pictures.
Check out Vije's instagram page here: Tapsnap and give him a follow. He is the founder of TapSnap – a wonderful photography website that connects photographers with people wanting to have their pictures taken/photoshoots around their area. Send him a direct message on instagram to inquire about or book a photography session even. You won't regret it.
xoxo
Oluv