Many a times I see products with stickers that say *voted best product of the year* and I always wonder how and when that happened – the voting/winning I mean. Is it something that happens privately or is it decided/judged by peer companies at private functions and all? The truth is, I just never really knew. However all this changed – a bit – about a month ago when MamaMagic SA held a judging session at The Dome in Johannesburg for the finalists of the New Products awards. I was lucky enough to be a part of the judging process and actually be afforded the opportunity to have an opinion on the products from a Mother's perspective.
"MamaMagic New Product Awards is the spotlight that shines on new products that enter the South African baby and parenting arena through the MamaMagic, The Baby Expo each year. It also narrows the gap in transparency between brands and their consumers, allowing for direct and honest feedback and interaction with the products."
These awards are for products that were launched within 12 months of the awards event and are judged by Parents and experts in the parenting field.
2016 Categories included Baby Essentials, Mom's Essentials, Play, Safety, Travel, Feeding, Nursery Products, Local is Lekker, Green and Parent's Choice.
Last week Friday – Mama Magic hosted a lovely breakfast awards show to announce the winners of the New Products Awards. It was a rather gloomy and traffic filled morning that eventually turned into a beautiful day. All the finalists were there, lovely breakfast was served and the atmosphere was just very lovely.
Here's a list of all the winners and a little bit about their products:
This is a product by Brands Africa. Not only did it win in the Travel Category but it also won the OVERALL prize. Personally I am very impressed by this product, i'm secretly wishing it was launched while my little girl was still young – would have totally bought it. Here's what I like about this product – It weights about 3.5 to 4.3kgs. It folds into a hand bag size. Yes, handbag. It can be folded/unfolded in a matter of seconds. It certainly does not consume too much storage space at all if any :).

This stroller sure deserves the *World's tinniest stroller* title and it is definitely on my to-buy list for baby number 2.
This is a product by Parental Instinct (ran by 2 Dads) and may just be the best thing for parents with lil swimmers. When parenting and the "magic of nano-technology" met, amazing things happened and resulted in the birth of swimwear range that not only protects little ones from the harsh summer days' sun but also dries quicker than normal swimwear. I read this statement and was already sold on the product. My little one will be taking swimming classes soon and considering how much she hates the feeling of wet clothes/swimwear on her skin, these products will definitely come in handy. But, this was not the only thing that sold me! Their cute designs also definitely won my heart.
Ever had to spend a good couple of minutes with a screaming baby while you wait for the formula bottle to cool down? I have certainly been there and it was no fun. Well, this product is about to change all of that. Baby Brezza is said to heat,mix, and dispense formula in seconds. It is super easy to set up and to use. All you have to do is fill up the formula tank – which is airtight by the way, and the water tank. Press the amount of formula you need (60ml, 120ml, 180ml, 240ml, or 300ml) and in seconds you'll be ready to feed your little one.
I've always been a BIG fan of reusable nappies. When my little girl was still in nappies, we used cloth diapers on her and we loved it. So naturally, I was completely drawn to these swim nappies by BiddyKins. Their size is adjustable which allows little ones to grow with them and yes, they are completely reusable. They are suitable to use on little ones from about 4kgs to about 16kgs and an added bonus: They come in very fun vibrant colours both for boys and girls and they are environmentally friendly too :).
Gone are the days when breastfeeding moms spent hours worrying about whether or not the little one is getting enough milk. The Milk sense product allows moms to check the amount of milk available in each breast before and after feeding little one. It tracks the time since last feeding, the amount of milk little one drank and the baby's weight gain over time; among other things.
A wonderful product by Tiny Love designed specifically to grow with little one every step of the way. It is equipped with a variety of 15 playful activities targeted to help little ones with their fine motor skills and to stimulate their senses. This toy can be transformed into 3 fun ways for little ones from infant, to knelling/crawling toddler, and then standing/walking toddler. It is made out of durable material and is stable enough to support standing toddlers without falling over.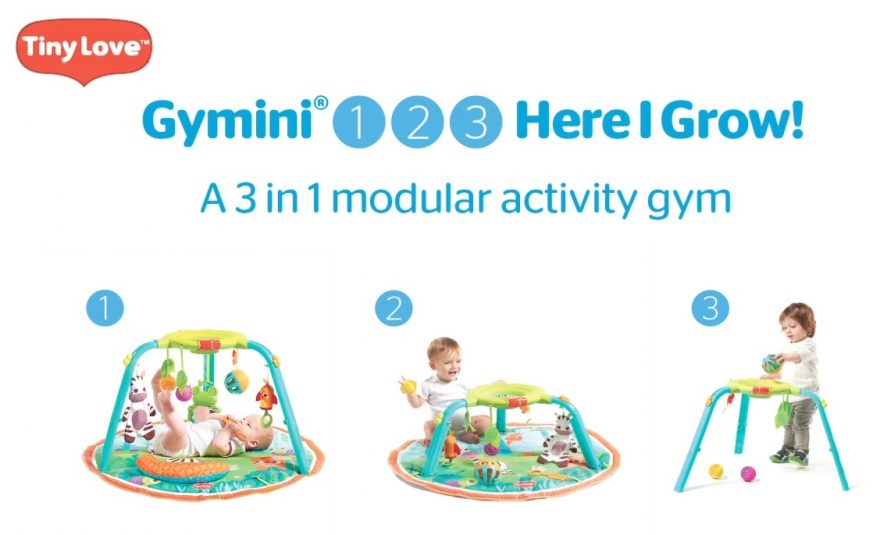 3 in 1 Close to me Bouncer
Another fun product by Tiny Love :). This is not just another normal bouncer, this is an adjustable bouncer that can be changed into 3 modes/levels. It is designed to keep little one always at eye level with the parents. It plays continuous music, has calming vibrations, and has a removable arch with two plush toys that make the bouncer not only comfortable but also entertaining at all times for the little ones. It is equipped with 2 rear wheels which makes it easier for parents to move it around and folds very easily making storage easier. For newborn little ones, there's 5-point harness, a padded newborn insert and a machine washable pad.
These are all such wonderful products which I definitely will be purchasing when the time comes for baby number 2. I'm very grateful that I had an opportunity to have an opinion on these products and even more grateful for the chance to attend the awards event which by the way  was beautiful, and well organised. I even got an opportunity to chat to some of the winners and here's what they had to say:
Have you tried any of these products yet? Which one are you most excited about?
xoxo
Oluv