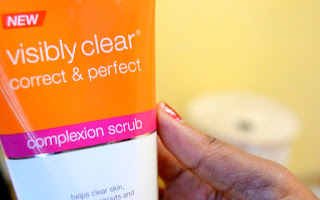 Complexion Scrub
With Winter fast approaching and a little bit of dry skin due to the hush weather, it can be a tough mission to find beauty products that can not only keep ones skin hydrated but also keep it looking alive and glowing.
2 weeks ago, I received a package in the mail – [courtesy of Beauty Bulletin] – and in this package was 2 beauty products that have now become my absolute BFF's. One of those products was the Neutrogena Correct & Perfect Complexion Scrub. This products is simply MAGICAL. It claims it can
Help clear skin,
Prevent breakouts, and
Even skin complexion
And I can tell you with the outmost confidence that this is true. Personally, I do not have any struggles with breakouts or pimples/acne on my face but skin tone is an ongoing real STRUGGLE for me. For most years of my life, I've tried products after products but just could not get a break through. With this product, my luck might just have taken a much needed turn in the right direction. I have been using it for 2 weeks and even though my skin tone is not completely even, there has been a very visible change/improvement.
2 weeks Results
Enriched with Salicylic Acid and gentle exfoliating microbeads, the Complexion Scrub actively works to improve ones complexion while at the same time improving and/or reducing the spots, marks, and other imperfections on ones face. What I like about this product is that
It is very easy to use,
Keeps my face moisturised,
It exfoliates while cleaning my face, and
Smells really amazing.
As the picture above shows, I can confirm that this product may just be exactly what it claims. The spots on my face are slowly fading away and my skin tone is also evening out.
Unfortunately this magical product is not yet in stores. But don't despair, it will launch in South Africa around July 2016. This will surely be a very long wait for me considering i'm almost at the end of the 150ml Complexion Scrub that I received from Beauty Bulletin. Nonetheless, it definitely be worth the wait.
In conclusion, I would recommend this product to anyone who has uneven skin tone, spots on the face, and anyone who is looking for a complexion scrub that can both clean your face and also keep you moisturised. It will be worth every cent you spend on it.
I'm having the time of my life using this product and I can barely wait for you to get your hands on it and try it out as well.
To see how I use this product, check out this video where I give more details of the review as well as a demo of how to/I use it
https://youtu.be/kkWM_FaMMic
. Also let me know in the comments section below if you have tried this product and how it worked out for you. Until next time, let's keep moisturising and looking BEAUTIFUL throughout winter.
xoxo