I can hardly believe that I am 25 years old. Like seriously!!! why is time flying by so fast?
For the past 24 years of my life, I've planned for my birthday and I always, without fail, have the day's schedule set. However on this day, I did not plan anything. I just wanted to do 1 thing – a Photoshoot. Of course I wasn't going to go and pay for a professional shoot, even if I tried, it wasn't gonna succeed because it was soo last minute. So I got my lil girl all dolled up and my bf also dressed up. We tried as hard as we can to match each other, and I think we did pretty great :). We took our Camera and tripod and headed to the park. And yes, we looked like complete crazies with the tripod and all but I loved every minute of it.
Accessories I wore for the shoot
Watching my daughter running around and posing for pictures made me realise exactly why I did not plan for this birthday. I wanted something spontaneous, something that I didn't have to plan an organise months before, and certainly something that both myself and my lil girl will enjoy doing. So yer, a home-made photoshoot seemed fitting. We, as usual, underestimated the time a lil bit, thanks winter, and ended up having to use just 1 location which i'm not complaining, it was awesome. We had all we needed in that location and we got a lil creative were it lacked. We took way too many pictures, more than anticipated, had so much fun, and got ourselves exhausted in the process. Then we went to grab some dinner and headed home where we snuggled up and watched a movie.
Birthday Girl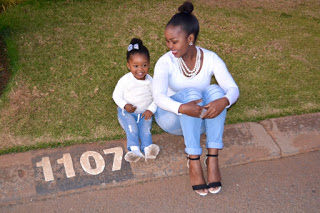 As i'm writing this post, i'm sitting in bed,preparing to go to sleep, and i'm going through all the well wish messages I received today and i'm in awe of all the love that's surrounding me. My mom went to church and said she prayed for me, My dad challenged himself to actually type out a text message – he's not techno savvy, at all, My lil brothers sang for me over the phone, My bf made me some yummy green juice – the best and My daughter kept singing happy birthday mommy all day. These, for me, are the people that matter the most and to have them show me this much love makes me feel like the luckiest girl, or should I say lady seeing that i'm getting old, alive. When i wake up tomorrow morning I will be 25years old, still so surreal but i'm super excited for this next year of my life. I've had far more exciting birthdays before but this was by far more special and intimate and for that I am happy and of course i'm already looking forward to my next birthday – if only i didn't have to get older… *sigh*
Happy Birthday to me…
xoxo
Oluv