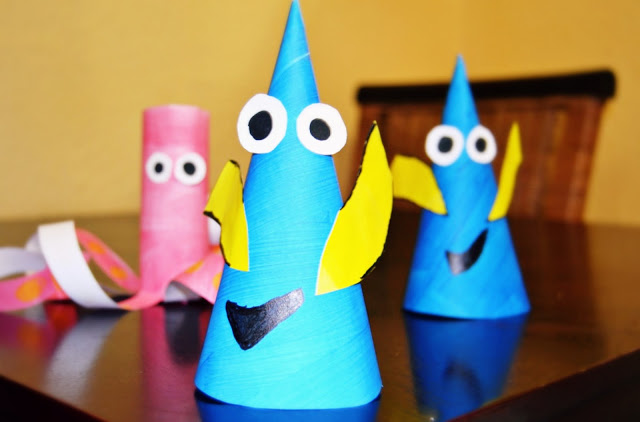 "Hi i'm Dory! I suffer from short term memory loss"
Every person that knows me well also knows that i'm not a very crafty person [I fake it pretty well though..LOL]. But every once in a while when I stumble across something interesting or a super cute and lovely movie, I challenge myself to bring out that non existent crafty little girl inside me and I have a little fun. Lucky for me, I have an almost 3 year old little girl who is legit into anything that gets her a little messy but produces cute results. Fun and games, right!
So this past weekend we went on a Mother-Daughter date to watch Finding Dory. It was Kbear's first time in a movie cinema and I was both excited and nervous. Excited because finally my little girl is not so little anymore and she gets to experience some exciting stuff, but also very nervous because we were both coming down with flu and I wasn't quite sure that little Miss K would be willing to sit for 90mins without being a little agitated.
Well, the odds must have been really on my side because all went smooth and she was rather very well behaved. Surprise, surprise!
So when we got home, we were all on the Finding Dory high, thee cutest movie ever!, and we decided to get a little crafty. And of course i'm here to share just how super easy this was.
But before you get started, here's a list of a few supplies you'll need:
Paint – preferably blue and yellow paint since that's Dory's colours but it's not compulsory also red/orange for Hank
Paint brushes
Paper – used plain white paper
Pair of scissors
Empty toilet paper roll
Glue / Cellotape – or some sort of adhesive
Black marker
Yellow highlighter
And now you are ready to get started 🙂
Don't worry, this is very easy to do. Kept my little one busy for about an hour.
First let the little one paint the page with blue paint – no need to worry about the mess, we need the whole page to be covered with blue paint
Repeat the above step for the yellow paint as well as the red paint. – i used red because I couldn't mix colours to get orange to make Hank (this worked well as well)
Then take your painted pages outside to let them dry
Once all the painted pages are dry, follow the below to make:
Dory
Take the blue painted page and cut it in half (to have little A5 size pages.)
Roll it over to have a shape of a cone
Stick the pointy part with collate to keep it in place
Then if you want you can put in some more collate where needed
And then cut the bigger top part of the cone to make it level so it can stand on the table without support
Then take the yellow paper and cut out 2 shapes to make Dory's fins
Then cut out 2 circles from a plain white paper and draw black circle inside. This will be Dory's eyes.
Using your adhesive of choice, stick both the fins and eyes on Dory's body.
Then lastly draw Dory's mouth with a black marker. PS: You can make it any shape you want.
And that is your Dory 🙂
Hank
Making Hank was much easier than expected. Which was a total plus for this non crafty Mama 🙂
Take the red/orange painted page and an empty toilet paper roll
Roll the page around the empty toilet paper roll, using adhesive where necessary to keep it in place.
Cut out 2 circles from a plain white paper and draw in black circles inside. This will be Hank's eyes.
Using adhesive, stick the eyes to Hank's body.
Then take scissors and start cutting out the paper from the bottom up. Stopping just a little bit before you hit the empty toilet paper roll.
Then use a yellow highlighter to draw on Hank's tentacles
When finished, use a pen to roll Hank's arms to get that nice finish.
And with this, you have yourself a complete Hank lookalike 🙂
I sure hope that I have explained this well. I am thinking now that it would have been so much better to do this on video but it's too late now. Anyway, let me know in the comments below if you'd like to see this in a video format and i'll be happy to film that.
For a person with ZERO crafting skills, I think this turned out well and for once, my daughter recognised what it is we were doing (called it Dory right away). Normally she sees something completely different from what we doing, thanks to my crafting skills, or lack thereof :).
Have fun crafting with your little ones and i'll see you soon.
xoxo
Oluv