My Favourite Garnier Products
I'm a simple person! A little too simple sometimes. I love things that are not complicated and I do not appreciate spending time trying to understand something that not only consumes too much of my time but also doesn't bring any joy in my life. With this being said, I must say that, I really truly appreciate a challenge. And so a little over 3 years ago I challenged myself to learn a bit more about make-up and beauty products. This was just after I turned 22 and I was ready to take the corporate world by storm. I was already on my 2nd job and my career was heading the right direction. To sum it all up, things were looking up. There was just one thing I haven't tried and this was using make-up. So i did what every girl would do! I went shopping for make-up products and I started using make-up every so often but not everyday and boy was it time consuming and difficult!…sigh.. I accepted the challenge with a big smile anyway and turned to the one place we turn to in times of need – The Internet. So a couple of YouTube videos later and very sore eyes (from lack of sleep), I was ready to get started.
To be quite honest I loved it. My skin looked more flawless, thanks to foundation; my eyebrows were more defined, thanks to brow pencil; and my eyes were even bigger – thanks to the miracle working eyeliner. For quite a while all was well until I just couldn't do it anymore. I didn't feel like myself. I hated feeling like I was forgetting what I looked like without foundation on! And most importantly, I just needed my skin to just have a break.
So I decided to quit and embark on a mission to even out my skin tone. I've never had even skin tone and to make matters worse, I have oily skin. Now, if you have uneven skin tone, you know the struggle!!! So it's safe to say that needed some real help. Again I turned to Mr KnowItAll – Google – and researched products that can lend a helping hand. It goes without saying that I chose Garnier Products. Specifically focused on Evening out skin tone.
I have been using these for a lil over 2 months and I do not regret it one bit. I can barely remember the last time I applied foundation on my face and I don't even miss it. I now have more time to spare for breakfast in the morning without rushing to put on make-up. Such a relief :). Especially because I have to get both myself and my little one ready in the morning. So these Garner products were my best bet.
Clarifying Foam / Face Wash
First I use the Clarifying foam to wash my face. Just a drop on my hands, rub them together and I wash my face. Then a good rinse and that's it. I do this twice daily – in the morning and evening.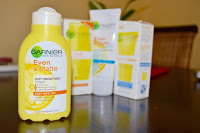 Toner
Then the Even & Matte Toner. Once i'm done washing my face, I follow on using the Garnier Even & Matte toner. This smells so Good and Lemony, it's amazing. It leaves my face feeling 2 times clean each time.
8 hours oil control cream
Moisturiser
And then depending on the weather, I use either the moisturiser on the right, or the 8hours oil control cream on the left. In the mornings on a work weekday, I apply the 8hours oil control cream. It helps reduce the oil on my face and in the evenings I apply the moisturiser.
This is one of the best decisions I've ever taken. As much as Make-up is glam, natural is even better. I've never been more confident than I am now. I appreciate my skin more and not having to worry about applying make-up has certainly made me unleash my inner beauty. Though I must say, I can't live without lipstick…LOL…
Me with nothing but Lipstick 🙂

xoxo
Oluv