Back in 2012 when my boyfriend and I started talking about starting a family, the idea of being a Mom had me very excited. I've always known deep down that I wanted to have kids. I didn't have a timeline of when that would be but it was there. I think secretly I just knew that it'll happen when the time is right. You know, meet the right guy, be financially stable….the whole nine yards. Then 2012 rolled in and boy was I ready. I met a wonderful guy whom I still absolutely love to this day and I felt absolute ready to start a family. And so we did….
2013 came and well and behold, we were expecting our first little one – One of the best highlights of my life. Went through the pregnancy blissfully then one fateful morning in August 2013, I woke up with contraction pains and I knew it…this is it! This is the day I officially become a Mom. I was both excited & scared. I could barely wait to hold my little girl. Fast forward to 9 hours of labour, baby getting stuck and eventually getting a C-section….finally a wide eyed little girl with loads of hair and sass; I am a Mom!
The first few months/years weren't so hectic. I knew what she needed and at what time that would be. The sleepless nights and the exhaustion that came with it, had nothing on my blissful parenting energy. I was in control and knew exactly what I was doing. My parenting style was absolutely working – yielding positive results too.
Then the toddler phase hit and all hell broke loose. My ever so sweet little girl now started talking, developed her own interests, grew and blossomed into such a gorgeous, strong willed toddler girl whom I loved so much but had no idea how to handle. I was never ready. My confidence levels declined and I was in tears almost all the time. I wanted more for my daughter. I wanted for her to express herself and grow into her own person. But I didn't know how to parent that person. She pushed boundaries and that rattled my cage.  I wasn't confident in my parenting style, but I didn't want to alter her personality. I was at the crossroads and something had to be done. I had to stop and pull myself together. I had to be there for my daughter and be the Hero that she thought I was. So I got professional help and stepped up my game.
The Baby Dove #RealMoms campaign had me thinking about this time during my parenting journey. It was one of the greatest times in my life but it sure was the biggest learning curve. I was set on becoming a perfect mom but had forgotten that my baby will have opinions and choices in the matter. I let the society's ideas of a what a perfect/good mom is cloud my judgement and it almost crippled me. I have since come a really long way and i'm at the point where my relationship with my daughter (and parenting style) is a 2 way street. It is a give and take relationship and we listen to and understand each other and the love is beyond real.
As part of the #RealMoms campaign, I have asked moms to participate in a poll of 3 simple questions – see results are below. I am personally surprised by the results from the 1st poll. Though it doesn't define exactly what it means, it seems being a *Perfect Mom* is still one of the top things expected by society.
Dove also asked Moms to answer a few more questions and the results are below – very interesting read.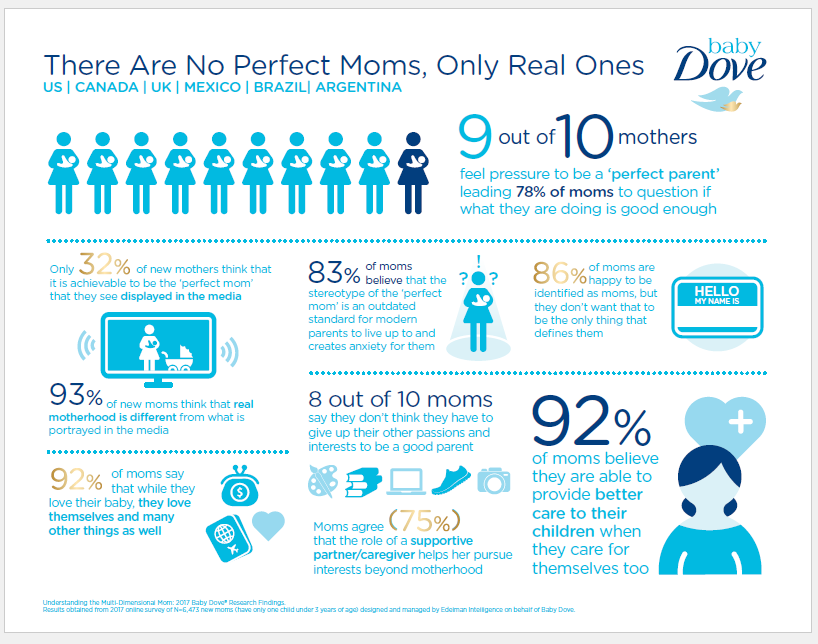 As for me…..Well, I am happy to be the Mom my little girl needs. The ideas of striving to be the perfect mom are long forgotten and I am HAPPY. Both with myself, my daughter, and my parenting style.
What does being a #RealMom mean to you?
xoxo
Oluv