So the time has finally come….That long awaited moment where my daughter comes running to me and says "Mommy,toilet" has finally arrived. So to follow suit, I started Potty Training. To be quite honest, I was both terrified and excited at the same time. Terrified because I have never Potty Trained any one before and Excited because now I get to buy cute little toddler underwear :). Of course I had no idea where to begin! I did not know a single thing about Potty Training and I kind of delayed it a little bit because I needed to get myself both intellectually and emotionally ready.
I visited my friend Google and consulted with my Mom and a couple of my friends with Kids. The information was overwhelming but gave me a good kick in the right direction. And so the next thing to do was get all the things I'll need to make the process as smooth and comfortable for the lil one as I possibly can. So I went ahead and bought the Huggies Pants for Girls, the Huggies Slip-Ons, and the Pampers Pants for Girls nappies. These all are pull-up pants and thus far they have truly been a big help in this Potty Training process.
But as the saying goes, *You can't always have the best of everything in one product*!…Wait is that even a saying or did I just make it up?
Anyway, I wanted to write this post so that I can share a little bit of the Pro's and Con's of each of the said Pull-Up Nappy Pants based on my experience thus far.
Huggies Nappy Pants for Girls
These nappy pants recently launched in South Africa and I could not have been more happier. They came in just in time for me to test them out as I was about to start the Potty Training Journey with my lil one. With this being said, It only seems fitting for me to start with the Huggies Pants for Girls because we have used them the longest compared to the others. Also because they have Minnie Mouse Prints 🙂 ……Yaaaaaaaay.
Because I'm such a softy, I always like to start with the good stuff as a foundation for the bad stuff so yep, I'm going to start with the Pro's then follow on with the Con's.
*Super cute designs (Minnie Mouse)
*Designed specifically for Girls
*Very nice stretch waist
*Can last up to 12 hours
*Fits very comfortably on Baby/Toddler
*Easy sides tear making nappy change easy
Con's
*Possible leaks on the outer parts of the nappy
I absolutely adore these nappies, they are super adorable, my daughter loves them, they very comfortable however, the one thing I don't like about them is the leak. My lil one's vests are usually moist and smells like urine which to a certain extend is disappointing but I cannot discard these wonderful nappies for just 1 Con. My lil one runs around freely and comfortably in them and when it's time to use the Potty, she just takes them down and pulls them up again when she's done. Pretty amazing, right?
Pampers Pants for Girls
I searched for thee longest time for these nappies and after about 2 to 3 four months, I finally found them. I need to say though that I was specifically looking for the Pampers Pants for Girls and I was not willing to purchase the neutral pack just to substitute and this is why it took me this long before I finally found them. Again, these recently launched in South Africa and they have been taking my lil girl's breath away each month :).
Pro's
*The have Dora the Explorer prints on them (which is awesome and very age specific for a 2year old)
*Stretchy waist band
*Lasts up to 12 hours and more
*Do not leak
*Designed specifically for girls
*Very comfortable fit on a Baby/Toddler
Con's
*Elastic material on the waist makes it difficult to tear sides during nappy change

These are my absolute favourite. I like that my lil one always stays dry even after 12 hours being in the nappy. My lil goober loves to sleep in during the weekend and I love the piece of mind these pull-up pants give me while she sleeps. I don't have to worry about her PJ's being moist/wet from nappy leaking or anything like that.
Huggies Slip-Ons
Can I just say that I had no idea that these pull-up nappies existed. I've always seen them on the store idles when I do my shopping but never cares to give them a second look. This is until I started Potty Training my lil Goober. So I bought them and decided to give them a try and guess what, I kinda like them.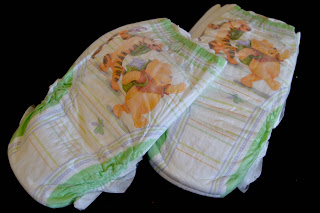 Pro's
*Do not leak
*Lasts up to 12 hours and a lil more
*Cute Winnie the Pooh designs
*Very easy to tear the sides during nappy change
Con's
*The waist is not very stretchy
*It looks like a normal nappy that's attached on the sides
*They have very pointy corners
*Corners not very comfortable on Baby/Toddler
*Very easy for toddler to take out nappy without assistance
As much as I like these Huggies Slip-Ons, they do have quite a couple of Con's. I have managed to look past the Con's as I continue to use these nappies because to be quite honest, they are not causing any damage. At first it was quite annoying to have my little one take off her nappy whenever she felt like it but we have stopped that habit.
These are in my opinion the Pro's and Con's of the above mentioned nappies. I still continue to use them to this day but I'm mostly loving the Pampers Pants for Girls. They are close to impossible to find in stores but every chance I get, I grab it. The Huggies Nappy Pants for Girls are my 2nd favourite and the Huggies Slip-Ons are my least favourite.
I hope this post has been helpful to anyone who's looking for ideas on which Pull-Up pants to use when starting the Potty Training journey. Just remember that I am in no way an expert and simply because this is how I view/experienced these Nappies does not automatically mean that you'll have the same experiences. Have fun during Potty Training and I hope your lil one will enjoy the prints on the Pull-Ups.
xoxo